If you are looking to show off all of your hard work in your next bodybuilding or fitness competition, Team Dee's is the top Las Vegas area competition posing coach. Planning to enter any competition requires a focused will, discipline, and proper preparation. Figure posing competitions are an excellent way to build both your body and confidence. We'll help you to walk across that stage in a way that impresses the judges with moves and poses that really maximize the chiseled physique you've worked so hard for.
Training For Both Men's & Women's Bodybuilding Divisions
We offer posing instruction for all men's and women's bodybuilding divisions – whether you're competing in women's bikini, bodybuilding, physique, figure, fitness, or mixed pairs. With over 30 years as a fitness instructor and a certified IFBB Pro, Dee Bloom practices what she preaches. She has won several awards at national and master level competitions in the NPC. Just a few of the other reasons to hire the professional competition posing coaches at Team Dee's include:
Learning To Avoid Stage Fright
Getting Show Prepping Tips From Pros
Learn Proper Poses To Accentuate Your Body
Learn How Long To Hold A Pose
To Know If & When You're Ready To Compete
To Build Stage Stamina & Presence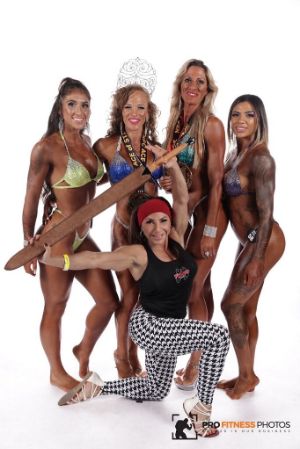 Learn The Poses That Work Best For You
Let us prepare your mind and body for the stage and discover what judges like best in the various competition levels of poses, figure posing, bodybuilding, physique, bikini, couples, and all other posing techniques.
Don't just learn the mandatory poses without taking into account how well they do or don't show off your particular build. You can train for months and then hide all of that training beneath a bad stage presence. We're here to make sure that doesn't happen.
The Personal Trainer's Posing Coach
We are well known by many personal trainers in Las Vegas who are searching for a competition posing coach for their clients while they continue to improve under the guidance of their regular personal trainer. That's because they can trust us to teach competition posing strictly, and leave the other aspects of training and competition prep completely up to you.
Your Las Vegas Competition Posing Coach
You've made it this far which means you're a mental warrior. Now it's time to make sure you show up to competition ready to showcase your strengths. As your Las Vegas competition posing coach, Team Dee's will evaluate and emphasize your physique to your greatest advantage on stage. We'll help you with your walk, smooth transitions, and muscle poses that will wow those judges. So, call today to schedule your first posing session. We can't wait to see the results.