If you're looking for the best personal trainer in Las Vegas, contact Dee Bloom today. With an IFBB Pro in your corner, you'll experience for yourself the life-changing benefits of having access to your very own award-winning personal trainer. She'll help you lose that excess weight, tighten your physique, and motivate you to keep it off. The work you put in today will shape how you feel when you step in front of the mirror weeks from now. Because Dee trains out of City Athletic Club in Las Vegas, you will have access to a state-of-the-art facility where you can get on the road to real results.
She's With You Every Rep & Every Step
With a professional fitness coach on your team, meeting your body goals becomes more of an adventure. You'll not only succeed in targeting fat and looking your best. You'll learn about proper nutrition for optimal health. When you're actually making progress, you want to see how far you can go. Just some of the personal training services Dee offers include:
Personal Training For All Ages & Levels
Sports Specific Training
Weight Loss Training
Strength Training
The Boss Lady That Gets Results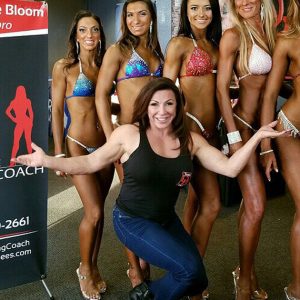 With a background in dance, nutrition, and over 30 years of fitness counseling, owner of Team Dees, fitness competition competitor, and female personal trainer, Dee Bloom is an IFBB Pro trainer, and AFFAA certified health and movement advisor. In short, Dee knows how to move, train, and shape bodies. You want a personal trainer that can help you get the most out of your workout. She can help you design a fitness and nutrition program specific to your bodies needs in order for you to reach your fitness goal.
Discipline, Motivation, Consistency
Having a private trainer is a great way to learn correct posture and form for better weight lifting and cardio exercise performance. More importantly, however, personal training means accountability. Dee will help you remember why you are doing this and what your goals are. Because, ultimately, when it comes to the mental game of fitness your only competition is you.
Personal Training Is The First Step To The Ultimate You
For a personal trainer in Las Vegas who delivers real results, contact Dee Bloom today. If you're looking for long-lasting weight management, less skinny fat, more muscle, and total body health count on her. She will customize a personal training plan for you that works and shows results. For a stronger core, more energy, and a boosted metabolism consider the guided expertise of an experienced female personal trainer. Not local? No problem. Dee also offers online personal training services for your convenience.