Whether you are looking for nutrition advice, personal training, competition prep training, a weightlifting trainer, or a posing coach, Team Dee's is here to help you in Las Vegas with Powerlifting and Bodybuilding. Burn away excess fat while building muscles that shape, shift, and create a clean symmetrical new you.
As a fitness competition athlete herself, Dee Bloom is the female trainer that knows how to transform bodies. So get ready to get ripped.
Weight Training For Women
When most women think of bodybuilding and weightlifting, they tend to believe it will ruin their feminine physique and bulk it out in places they never even knew existed. Powerlifting is an excellent addition to your workout routine. Your body continues to burn calories after you've finished working out for the day, helping you slim down and uncover the sexy muscle underneath.
The psychological benefits of weight training are just as noticeable as your new body and will boost your confidence, provide you with extra energy, and improve your sleep cycle.
There's A Mind-Body Connection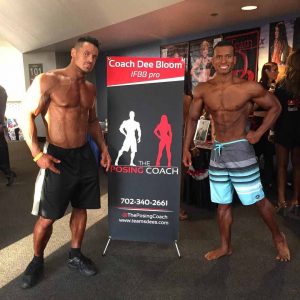 Oh, the things you can do with a set of barbells and dumbbells. Losing fat and getting gains through the practice of weightlifting is a great way to reach past your personal limitations and continue to challenge yourself. When a person can bench press or deadlift their own weight, a new sense of achievement and possibilities of what can be done with the body and mind increases.
The Benefits Of A Las Vegas Bodybuilding Trainer
Bodybuilding and muscle sculpting has a gradual step-by-step learning curve that requires the expertise of a bodybuilding or powerlifting coach to avoid injury and get the best results in the least amount of time. Other benefits of having Dee as your powerlifting coach include:
Meal Plans To Motivate Clean Bulking
Body Shape Analysis For Better Physique Balance
If You Prefer A Female Trainer
Access To Competition Prep Trainers
Posture And Movement Correction
Two of the major pitfalls of bodybuilding are improper posture and diet. As your personal powerlifting and weightlifting coach, Dee Bloom will analyze the shape and balance of your abs, quads, glutes, and pecs and make sure your pro bodybuilding diet is a clean one. She'll make sure you bench, lift, snatch, jerk, and squat yourself into the sexiest you possible.
Your Vegas Powerlifting & Bodybuilding Coach
Whether you're interested in body competition training or are shy about learning how to lift weights safely or effectively, but are serious about changing your body and strengthening your muscles, then consider pro-bodybuilding lessons with Team Dee's in Las Vegas, Nevada. With over 30 years of fitness training and nutrition counseling, contact Dee Bloom to hit your personal goals and weightlifting records and surpass what you thought was possible.