If you're ready to surpass your fitness and weight loss expectations, then choose Dee Bloom of Team Dee's, a female personal trainer in Las Vegas specializing in helping women meet their goals. You want to feel excited about finally making progress and meeting goals. Dee meets you and works tirelessly to create a plan that makes sense for the female body and specific goals. So say goodbye to excuses and never skip a day at the gym again.
You Are Worth It
Maybe you've thought about having a female-focused fitness trainer before but put it off because of timing or money. Now's the time to take that first step to become the fitter, leaner, healthier version of yourself you know is in there. With over 30 years of experience in performance diets and body sculpting, Dee is your trusted source for real results, no matter your age or current fitness level. She helps both men and women reach their maximum potential.
A Female Personal Trainer In Las Vegas For Women Who Want Results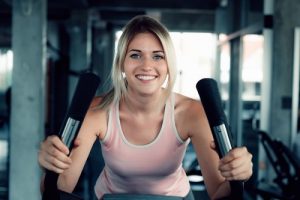 Truth bomb: only another woman really knows a woman's body and its unique needs. We all want to feel attractive, energetic, and youthful. Dee also wants you to have the confidence, energy, and discipline you need to go for the things you want in this life. Here are a few more reasons you'll love having Dee as your female trainer:
A Passion For Health & Fitness
Messy Buns And Sweaty Shirts? Who Cares. We're Here To Work
She Embodies Ideal Women's Fitness
She's A Bikini Body Expert
High-Performance Fitness Coaching For Men
There are also many benefits for a man to choose Dee as his personal trainer. It can be so motivating to train with someone who not only looks good but is obviously taking her own fitness advice and getting amazing results. If that isn't reason enough, think about how nice it is to have a sexy personal trainer you don't have to compare yourself to. Many men find it more comfortable asking their female personal trainer questions or letting her know when something doesn't feel right without the worry of judgment.
Get Focused, Motivated And Inspired
Certified by the International Federation of Bodybuilding and Fitness (IFBB), Dee Bloom offers you professional advice and training that gets you real results. She's not only a competition-level trainer but also a winning competitor herself. So, you know her methods work and that she practices what she preaches. She trains out of Power House Gym, where you have access to state-of-the-art equipment.
Contact Dee Bloom at Team Dee's today if you're looking for the best Las Vegas personal trainer for females. She is ready to help you stay focused, motivated, and inspired to succeed.