If you are thinking about participating in a fitness competition, your first move should be to hire Team Dee's in Las Vegas as your personal fitness competition trainer. Having an experienced competition fitness trainer helping you prepare for your next competition can give you the edge you need to take your body up a notch and reach your personal best.
After working with your trainer, your body will display a physique that will be the envy of every competitor out there.
Get Real Results, Stop Wasting Time
Anyone can achieve fitness goals with hard work and perseverance, but competition training from Team Dee's can alleviate the guesswork and wasted time many new competitors suffer from and get you focused on what will actually get you the look and looks you want. There's no need to struggle on your own or experiencing the hassle and frustration of trial and error. With a customized program to transform your body with nutrition counseling, drafted by a competition pro you get the results you need in less time.
Make Every Competition Your Personal Best
Whether you are an amateur looking to compete for the first time, or a pro hoping to reach a personal best, a customized plan is the recipe for success. Your competition prep plan will include nutrition and meal plans, accurate macros, and personalized workout regimens. Results are a guarantee when you place yourself in Team Dee's capable and experienced hands. Get the physique you need for any contest with a fitness competition trainer who has your best interests and goals at heart.
Helping You Prepare Or Maintain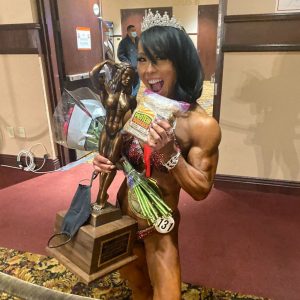 Whether you are maintaining muscle mass and physique during the off-season, or actively preparing for competitions, we can work with you and your specific goals. Our expertise extends to all varieties of fitness and bodybuilding competitions. Some of the contests you might be looking at include:
Bikini Competition
Physique
Figure Competition
Fitness
Mixed Pairs
Start Training For Success Today
Contact Team Dee's in Las Vegas today and get started on the journey of competitive fitness and bodybuilding. Whether you are just beginning or have years of experience, your trainer is ready to create your perfect performance plan. A fitness competition coach is the advantage you need and Team Dee's will motivate you to get the results you want for competitions.