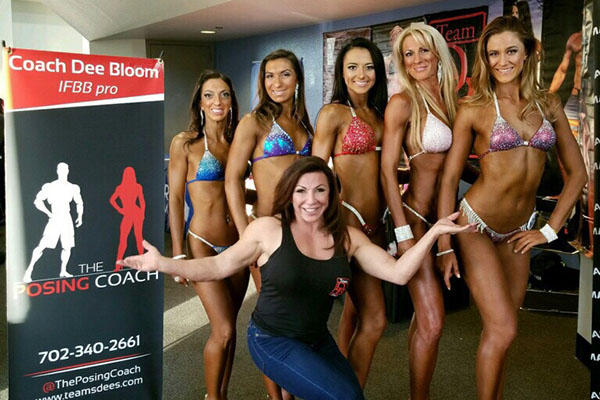 Because at Team Dee's in Las Vegas, NV, we train you to be fitter and reach higher than you ever thought possible, we've put together this guide to fitness competitions in Vegas for when you are ready to take things to the next step.
There's nothing like taking all that hard work onto the stage and competing against your peers. Sometimes signing up for contests is a great way to motivate yourself to work towards an even more refined physique. With competition training, bikini-posing coach services, and nutrition plans, we'll be with you every step you take towards the winner's podium.
Las Vegas Bodybuilding Shows
You want to make sure you're next bodybuilding show is far enough out that you have time to train and get your body in tip-top shape from the inside out. If there's a fitness event coming up and you're not quite ready to compete, you may consider attending as an audience member. This way, you can get a feel for the scene without the pressure of having to perform. You can watch the judge's faces and the audience's reactions to different routines and have fun with it. Here are some of the local fitness competitions in Vegas for your convenience:
February
March
April
May
June
July
August
September
October
November
December
2021 NPC Sacramento Championships Figure Overall
The Jay Cutler Desert Classic
The National Physique Committee's Jay Cutler Desert Classic is named for the four-time Mr. Olympia winner and Las Vegas resident. This fitness competition usually takes place in the spring and judges you in the categories of bodybuilding, classic physique, fitness, bikini, figure, and men and women's physique. Age-specific categories are available from teens to 50+ and experience levels from novice to grandmaster are also open.
John Weider's Olympia Amateur
John Weider's Olympia Amateur competition is best known for crowning a Mr. Olympia at each event. This bodybuilding show is held each fall by the International Federation of Bodybuilding and Fitness. Arnold Schwarzenegger won this title seven times and, at 23, was the youngest winner in history to date. The main events in this fitness performance weekend include Mr. Olympia, fitness, figure, bikini, 212, women's, physique, men's physique, and classic physique.
The Steve Karr Las Vegas Classic
The Steve Karr Las Vegas Classic is presented each fall by the National Physique Committee. The main areas of competition at this show are bodybuilding, classic physique, teen's classic, men's physique, women's physique, figure, and bikini. There are open, master's, novice, and teen divisions to choose from. So, there is a place for you no matter where you're starting from in the competition scene.
Get Ready To Compete In Las Vegas
Whether you are looking to compete in one of these competitions or an event promoted by the United States Powerlifting Association or some other reputable bodybuilding committee, we can help at Team Dee's. Dee Bloom is not just a competition trainer, but a fitness competitor and winner herself. She knows what it takes to get your body and mind in shape for fitness competitions in Vegas. Call and make an appointment today for a fitness competition training consultation and get a leg up on your next championship stage performance.