No lifestyle should be too busy for health and fitness, Denise Bloom of Team Dee's is your online personal trainer. The wonders of the Internet have made it easier for real live experts to share their knowledge and skills with the global community without having to travel far and wide to receive the best services or products.
With over three decades of fitness training experience and a background in dance and nutrition, female fitness coach Dee Bloom is now offering virtual training to help you meet your fitness, diet, and weight loss goals without having to leave the comfort of your own home.
Access To An Online Personal Trainer Wherever You Are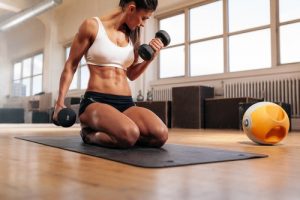 Have a personal online workout with a certified AFAA and IFBB Pro trainer that's won several fitness competition titles such as the NPC USA, NPC Nationals, and the NPC Master Nationals. Dee Bloom will have you sweating your way to a healthier, more vibrant physique in time. Having an online fitness trainer works great for those with busy schedules and can save money on unused gym memberships in the long run. Just some of the reasons more people are turning towards an online fitness coach include:
No Travel Necessary
Flexible To Your Schedule
You Learn How To Workout Anywhere
You Take "The Gym" With You, No Excuses
Nutrition Counseling For Faster Results
You're Not Wasting Money On Junkfood
Consistent Motivation And Accountability
Prioritize Your Fitness With Online Fitness Coaching
If you have a packed schedule but want to prioritize fitness or need the fastest results for a special event like your wedding day, tailored workouts online with Dee Bloom is the answer. A better body comes from a combination of commitment and consistency. Now you can get custom diet advice and exercises that target the areas of your unique body that need specific attention in your own private space.
The Online Personal Trainer In Your Pocket
Finally, meet your weight loss and body transformation goals. Dee Bloom is here to walk you through what works. Avoid the pitfalls of trial and error when trying to build a stronger, fitter form or prep for a competition. Call Team Dee's of Las Vegas today to schedule your online personal trainer consultation.