Name: Denise Dinger
E-mail: 

[email protected]

Age: 45
Where: Las Vegas, Nevada
Height: 4′ 11″
Weight: 108 Lbs.
Years Bodybuilding: 21
Favorite Bodypart: Legs
Favorite Exercise: Abs
Favorite Supplements: Jay Robb Protein Powder is my favorite supplement.
How Did You Get Started?
I got started bodybuilding in 1986 after having my first child. I saw a picture of Rachel McLish and thought she had an awesome body. Being a dancer all my life, this seems to be a natural transition. At the time, I was teaching aerobics in the gym and wanted to compete. I set my sight on the 1990 Nevada State Championship and began training for three solid years. Needless to say, it paid off. I won the overall title as a lightweight, and I have never looked back. Training, teaching, and personal instruction became my new life. Truly I have only taken time off to give birth to three more children and have returned to the gym within 3-4 four weeks. I am a true gym rat!
What Workout Plan Worked Best For You?
The best workout plan for me has all depended on what I am training for.
Bodybuilding shows: 3 on 1 off, 3 on 2 off. And a moderate amount of cardio
Powerlifting meets: 3 days a week off the bench, 2 days of squats, and 1 day of deadlifting and not much cardio.
Figure shows: 2 on 1 off, 2 on 2 off, and lots of cardio.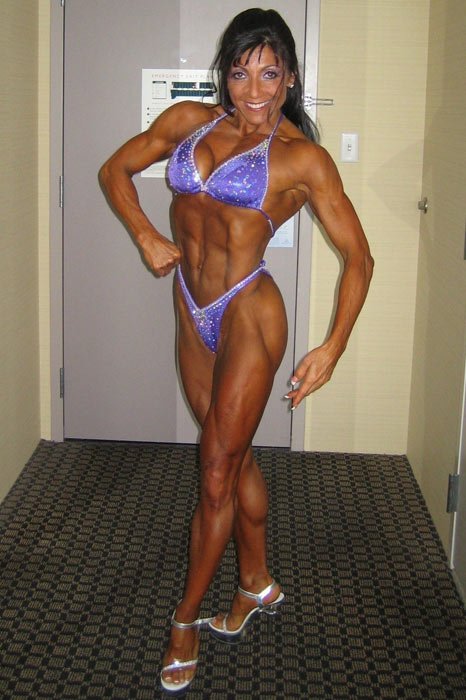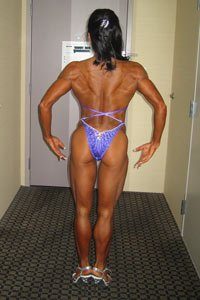 What Nutrition Plan Has Worked Best For You?
My nutrition plan has always been very clean on or off-season. I eat whole grain, sweet potato, brown rice, green vegetables, a little fruit, and mounds of chicken, fish, and protein shakes.
What Supplements Have Given You The Greatest Gains?
As far as supplements go, I like to use creatine, glutamine, DIM, DHEA, L-carnitine, and a multivitamin. I do have a power shake in the morning with about 10 additives and protein. Keeps me young!
Why do you love Bodybuilding?
I love bodybuilding because it has given me inner strength to be the woman I am today. I feel completely empowered by the mere fact I hold the Nevada State record in Powerlifting for 44-49/123Lbs. My deadlift to date is 303 lbs.
What Are Your Future Bodybuilding Plans?
My future plan is to cross over to figure and grace the stage at age 45 with an all-around feminine look. Also to encourage women of all ages to lift weights and create that awesome body they have always dreamed of. And in turn, become a stronger woman from the inside out!
What One Tip Would You Give Other Bodybuilders?
The one tip I would give to my fellow gym buddies is to be consistent and don't give up on themselves before the miracle happens.
Who Are Your Favorite Bodybuilders?
My favorite Bodybuilders of all time are Rachel McLish, Frank Zane, and Lenda Murray!
"TELL THE MIND AND THE BODY WILL FOLLOW!"